Raj Kanda
Year of Call: 1998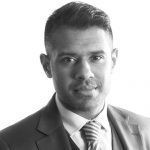 Areas of Expertise
Family Private Law Children
Family Finance
Education
LLB (Hons) University of Hull
County Court Rate: £295.00 +VAT   High Court Rate: £395.00 +VAT   VAT Registered: Yes   Direct Access Accredited: Yes
Raj is a family law barrister with 15 years' of successful practice and experience in the legal industry. He is also dual-qualified as a solicitor and spent several years at a large national firm of solicitors rising to Partner level as a specialist in counter-fraud investigations. Throughout his career he has also created and delivered training to legal professionals at all levels in addition to other corporate and commercial institutions. 
His experience as a solicitor has been invaluable. Raj appreciates and understands the pressures and constraints solicitors work under whether it be in relation demands of clients, the rigours of daily practice or the evolving commercial landscape faced by firms across the country. This level of understanding means he is able work in partnership with his professional clients and prefers to do so wherever possible. 
Family Law 
Raj commenced practice in 2005 and quickly developed a passion for family proceedings dealing with all aspects of private children law, domestic violence and financial proceedings following divorce. He understands the strain and anguish individuals and families face when having to contend with family proceedings. He communicates with clients in a straightforward but sympathetic manner and avoids legalese. He finds this approach is welcomed by all and is of particular benefit for his Direct Access clients. 
Lecturing 
Having provided a wealth of legal training throughout his career, this inspired Raj to enter the world of teaching and since 2017 he has worked with BPP University and BPP Professional Development. He has taught the full range of advocacy skills, conferencing, family law and ethics on the BPTC (BTC from September 2020). He also assesses students undertaking higher rights of audience accreditation, the bar transfer test and teaches advocacy and client care on the professional skills course for trainee solicitors. 
Interests 
Away from life at the Bar and the classroom, I am with my family. Then I am an obsessive road cyclist and motor enthusiast. I also love to spend time in the kitchen and visit the theatre. 
contact details
The Dryden Enterprise Centre, Dryden Street, Nottingham, NG1 4EY
Raj Kanda – Thank you for the email this morning and again thank you for yesterday I really appreciate you stepping in last minute and doing such a good job.
Raj Kanda – Thank you so much for your guidance yesterday. Your professionalism was far beyond what we expected.
Raj Kanda – Thank you very much for looking at this for me and providing such a detailed and comprehensive advice. I'm not sure I have ever received such a thoughtful and well researched advice from a barrister.